Grantee Convening Highlights, Grantee Spotlights, Opportunities
12 September 2023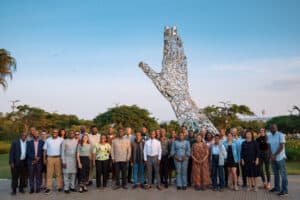 Lacuna Fund Grantees and Partners Meet in Kigali for Annual Grantee Convening 
We had a wonderful time in June at our second annual Grantee Convening, gathering grantees, Lacuna Fund Secretariat staff, partners, and funders in Kigali, Rwanda to foster collaboration, learn from one another, and explore future opportunities and resources for grantees and their datasets. Grantees from the 2020 and 2021 funding rounds in Agriculture, Natural Language Processing, and Equity & Health were in attendance, sharing their work. Those attending the Lacuna Fund convening also had the opportunity to attend the AfricAI Conference in Kigali.  
See some highlights below!  
Presenting dataset projects to fellow Lacuna Fund grantees and the broader machine learning community

 

Hearing stories about the Lacuna Fund community's impact through presentations and interviews

 

Sharing lessons learned by domain (agriculture, language, health)

 

Attending robust sessions at the AfricAI Conference, including presentations from Lacuna Fund grantees

 
Visiting the Digital Transformation Center to learn more about the Mbaza Network and the Rwanda NLP ecosystem

 

Connecting with Lacuna Fund partners from the Local Development Research Institute (LDRI), Datawise Africa, and Data Innovators

 

Interacting with Steering Committee members and funders 

 
---
Grantee Spotlights 
Climate and Energy
|
Energy Consumption, Needs & Forecasting Using Indigenous Tools in Pakistan
Using machine learning technologies to solve local problems proves useful across many contexts. The energy sector is no exception. In Pakistan, a research team from our 2022 Climate and Energy grantee cohort is tackling energy insecurity in the Khyber Pakhtunkhwa Province, enhancing the reliability of electricity for consumers in the region. Given that the local communities still often rely on wood and fossil fuels for heating and cooking, the team is leaning into one of the main existing sources of clean energy in the area – small Micro Hydro Plants (MHPs). These MHPs are, additionally, the only sources of electricity for the community. They hope their state-of-the-art utility solutions, based on consistent, real-time data and monitoring, will support many crucial electricity needs and improve clean energy access. 
This project is a partnership between Center for Intelligence Systems and Networks Research (CISNR), the University of Engineering & Technology Peshawar, Khyber Pakhtunkhwa Province of Pakistan, and local development organization, Sarhad Rural Support Program (SRSP). 
Take a look at this short video that the team shared of some of their work so far! Learn more about our 2022 Climate Grantees on our website.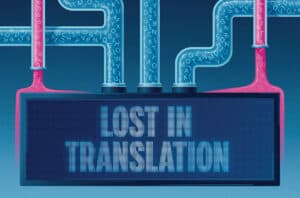 Article in
Science
Highlights Work of Lacuna Fund Language Projects, Grantees
Several Lacuna Fund partners were featured in an article published in Science that highlights the impact of a lack of low-resourced languages in AI applications – and the root of the problem. Researchers from Masakhane, along with several other Lacuna Fund partners, shared the many challenges with the status quo, their efforts to make AI more representative, and what the future looks like with inclusive machine learning datasets in it. Read the article in full: AI often mangles African languages. Local scientists and volunteers are taking it back to school | Science | AAAS (PDF). 

---
Opportunities
Zindi CGIAR Eyes on the Ground Challenge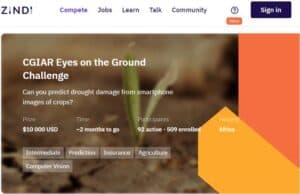 Join Zindi's Eyes on the Ground Challenge, made possible by CGIAR Research Initiative on Digital Innovation. This challenge will utilize the "Eyes on the Ground" project and is a collaboration between ACRE Africa, the International Food Policy Research Institute (IFPRI), and Lacuna Fund. This team has created a large machine learning dataset that provides a close-up view of smallholder farmers' fields, based upon previous work within the Picture-Based Insurance framework. Zindi opened a public challenge to put your skills in improving accuracy in drought damage prediction to the test. To learn more and join the challenge, click here. 
The essentials:  
Competition closes 03 November 2023 at 11:59 PM GMT

 

The first prize solution wins USD $5,000